About Bertolli
It was our wonderful olive oil that originally made Bertolli famous around the world; now our name is as rich in tradition and history as our foods are rich in flavour.
Our Story
Our story began in Tuscany, 1865, when Francesco and Caterina Bertolli discovered their great passion for producing olive oil. News of their talent soon spread, and they opened for business in a small shop beneath their family home, in the beautiful town of Lucca.
Ever since then, Bertolli has been the very soul of good living. We've grown into an international brand, with our delicious olive oil spreads all created with a touch of Mediterranean sunshine. Yet despite how much we've grown, Bertolli will always be infused with the spirit and pleasures of Italian cuisine.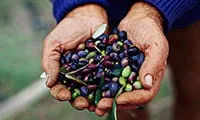 We produce them with the finest ingredients, combined with specially selected olive oil. The result is a flavour so vibrant, you can almost smell the Italian deli in your own home.
We believe that the way you choose your foods, cook and eat is the very source of life. Wherever you are in the world, you can always rely on Bertolli olive oil spreads to bring the spirit of Italian cuisine into your home.